| | | |
| --- | --- | --- |
| " | Your Castle Guard is the last line of defense. Here you recruit the soldiers who are going to defend your kindgom. Train your soldiers and create defensive waves to prepare for every gatecrasher. | " |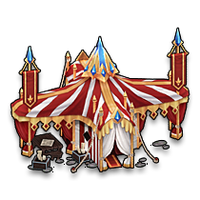 The castle guard represents the defensive waves that move towards attackers. Upgrading the building itself allows for more powerful waves. Up to level 8, upgrades also reduce the time between waves so that more waves can be used. New waves are always added with a random combination of available units as first wave in front of the other ones.
Just like the troop academy, wizard's tower, and inventor's workshop, it is not possible to upgrade the castle guard and waves inside the castle guard at the same time.
Upgrades to the castle gate and defensive waves can be done quickly in the early stages of the game. With higher levels, however, upgrading becomes very time consuming and expensive. Since there are eight waves to upgrade, the castle guard ultimately becomes the bottleneck of defensive upgrades.
Level
Requirement
Upgrade Cost
Upgrade Time
Waves
Wave Time
Max Morale
1
Throne Room level 1
2K
 5m
1
72s
 8
2
3K
10m
2
54s
 10
3
Throne Room level 2
15K
1h
3
40s
 13
4
Throne Room level 3
50K
6h
4
32s
 16
5
Throne Room level 4
100K
12h
5
26s
 19
6
Throne Room level 5
200K
1d
6
22s
 22
7
Throne Room level 6
500K
2d
7
20s
 24
8
Throne Room level 7
1M
3d
8
18s
 26
9
Throne Room level 8
1.5M
4d
8
18s
 28
10
Throne Room level 9
2.5M
5d
8
18s
 42
11
Throne Room level 10
 5M
 6d
9
 16s
 44
12
Throne Room level 11
 8M
6d
9
 15s
 45
13
Throne Room level 12
 10M
 7d
9
 15s
 46
Level
Morale
Upgrade Cost
Upgrade Time
1
 4
FREE
FREE
2
 6
1K
5m
3
 8
5K
30m
4
 10
25K
2h
5
 13
100K
6h
6
 16
250K
1d
7
 19
1M
2d
8
 22
2M
3d
9
 24
3M
3d 12h
10
 26
4M
4d
11
 28
5M
4d 12h
12
 30
5.5M
5d
13
 32
6M
5d 12h
14
 34
6.5M
6d
15
 36
7M
6d 12h
16
 38
7.5M
7d
17
 40
8M
7d 12h
18
 42
 9M
 8d
19
 43
 12M
 8d 12h
20
 44
 13.5M
 9d
21
 45
 14M
 9d 12h
22
 46
 15M
 10d
Total X1
 119,381,000
 100d 20h 35m
Total X9
 1,074,429,000
 2y 177d 1h 5m
Waves can hold up to eight units, but are limited by the available morale. In the beginning, waves can quickly be expanded to level 3, allowing for eight knights (or four archers, or another combination of units). After level 3, additional morale points should be used to add stronger units. It's not strictly necessary to use up all morale points in a wave.
Players can always change the composition of troops in a wave. They can also use the button next to the upgrade button to randomly change the units in the wave.
After an upgrade is collected by the player, the additional morale points are used to add random units to the wave or to replace existing ones.
Waves in Action
Edit
Defensive waves move from the castle gate towards the attacker's tent. With higher levels of the castle guard the intervals between waves decrease, allowing for more waves.
However, the number of waves in the castle guard isn't the actual number of waves that are sent towards attackers. Instead, after the final wave they simply start over with the first one. This makes the first waves more important as they can occur twice, depending on the time provided for an attack, which in turn depends on the length of the defensive path.
Waves also don't start from the castle gate at the beginning of an attack, but are already on their way when the attack starts. For example, for a maximum length path of 31 tiles there are already four waves on their way, with the fifth spawning almost right away. In the 2:44 minutes that an attacker is given for such a path, a total of thirteen waves are sent out, meaning that waves 1-5 occur twice.
Waves Time Upgrade
Edit
Upgrading waves is the most longest thing to do, because of each wave requires more time, and even more when you can only upgrade once at time. This is why it should be useful if you have always gold ready to upgrade them, as soon as you finish another wave.